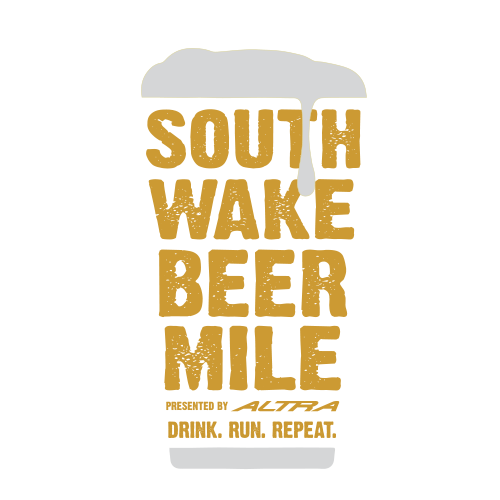 This past Saturday, beer was consumed and records were broken at the 2nd annual South Wake Beer Mile presented by Altra Running.
For those unfamiliar with this popular running/drinking event, runners are required to chug (or sip, it's up to you) a 12 oz beer, run a 1⁄4 mile, chug a 12 oz beer, run a 1⁄4 mile…you get the idea. Four beers! One Mile! It's that simple! And it's something many people take extremely serious! Click here to read all the rules to be considered an "official" beer mile.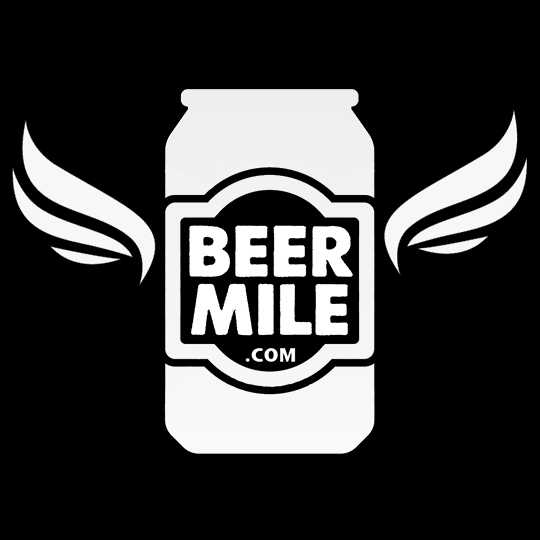 BeerMile.com prides itself on being the official racing resource for these beer mile events, hosting a database of thousands of race results, official and unofficial, from around the world.
In 2018, Pace Yourself Run Company hosted the Inaugural South Wake Beer Mile at Carolina Brewing Company which ended up showcasing some of the fastest times in the state according the BeerMile.com. In fact, 4 out of the top 10 results currently listed on the site are from this inaugural event.
Derek Fox 5:37

(current NC state record holder for beer mile w/ cups)

Garrett Jones 5:38
Andy Tessena 5:55
William Kronenwetter 5:58
However, the event was still considered "unofficial" since athletes consumed from cups (as most of the results on BeerMile.com are listed). To be considered an "official" beer mile, you must use cans or bottles to consumer the beer. Doing this makes the race a bit more difficult and usually yields roughly 20% slower times.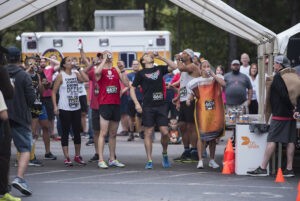 The goal for 2019 was to offer 2 options for athletes, an official beer mile in which the elite group could chase the North Carolina record now that we've hosted the record with cups and an individual group for those hoping to PR from previous beer miles. The course at Carolina Brewing Company, which is now USATF certified, features minimal turns and is as flat as one can hope for around Holly Springs…an ideal scenario for a PR.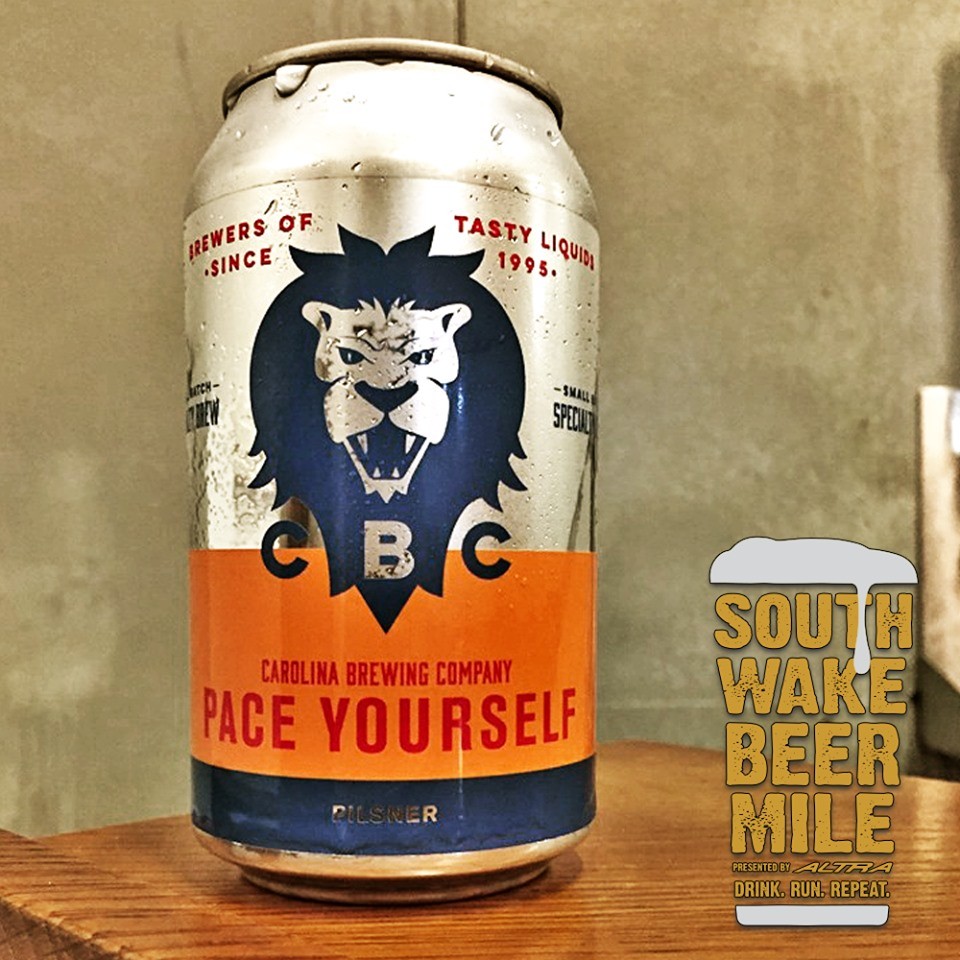 A huge thank you is owed to Carolina Brewing Company for their support in co-hosting this event. This year, they crafted a new brew, Pace Yourself Pilsner, specifically for the South Wake Beer Mile with the 5.0% minimum ABV (which is considered beer mile "official"), low IBU for optimal chugging, and canned enough for a group to chase the record books.
Previous NC record as listed and verified on BeerMile.com:
Jake Graham with a time of 6:47  at the Thanksgiving Beer Mile in Winston-Salem in 2012 consuming Budweiser (ewwww) from cans. 
With a newly certified course in place and a beer you actually want to consume, the athletes in both categories, cups and cans, showed up and showed off at this year's event. And when the sun began to set and the band began to jam there would be a new North Carolina state record holder for the beer mile. If fact, two individuals broke the previous record that day.
Alexander Thomas    6:31
Billy Kronenwetter   6:38
Also showing off some serious speed on Saturday were the following:
Individual Beer Mile (Cans):
Female:
10:42 – Heather Jones
11:08 – Sarah Larson
Individual Beer Mile (Cups):
Female:
10:28 – Betsey Anderson
11:21 – Alison Alcaine
Male:
6:54 – Samir Shah
7:07 – Josh Correll
4 Person Relay Team: 
1st Place: 5:01 – Ben Baldyga, Derek Fenton, Derek Fox, Nick Truman (Do You Even Run Bro?)
2nd Place: 5:04 Edwin Rivera, John Bailey, Mark Newman, Ben Allen (Brew Tang Clan)
*While Team Brew Tang Clan may have lost by just 3 seconds…they won our hearts with their smack talking leading up to race day. 
2 Person Relay Team Winner:
6:38 – Josh Correll & Matt Cornelius pushing Brandon Rizzuti (Team: Brandon)
7:15 – Bethany Nakoneczny & Lukasz Nakoneczny (Team: Better at Runnin' Up a Tab)
Click here to view photos from this year's event.
And let us never forget….NO ONE BEATS STEIN OFF THE LINE!!!
As of date this post was published the results from Saturday's race have been submitted to BeerMile.com along with video evidence of the race showing all rules were followed. Those results are currently being reviewed by their committee for verification.